Product description of Poker Pipe
This is a hand-made briar poker pipe. It's made from the finest quality Italian briar, and it has been specially selected for its unique grain pattern. The poker pipe comes with a silver band and is hand-cut, polished, and stained by our artisan craftsmen. It also has a removable bowl for easy cleaning. The briar poker pipe measures 5.75 inches in length with an approximate 1.22-inch diameter bowl. It's the perfect gift for any tobacco enthusiast!
It is one of our most popular pipes and provides cool, dry smoke. The mouthpiece and shank are made from acrylic. This beautiful briar tobacco pipe has a beautiful Gift Box Package design. It will definitely become one of your most satisfied briar pipes with its beautiful packaging and uniquely handmade.
Briar pipes are the most comfortable for smoking because it allows them to keep their face closer to the flame at all times during smoking; this makes it easier to see what's happening inside your pipe's bowl while also making it easier for you to control how much air you're pulling through your tobacco blend when lighting or relighting your pipe between puffs.
After placing the order now, we will also give away a variety of Pipe Accessories, including 1 pcs cotton bag and 1 pcs plastic high heel pipe rack, 2 pcs pipe rubber, 2 pcs pipe screen, All Natural Component Filter, 2 pcs cork knock 1 pcs 3in1 pipe knife,1 pcs pipe brush,10 pcs pipe cleaners, let you use your briar wood pipe more conveniently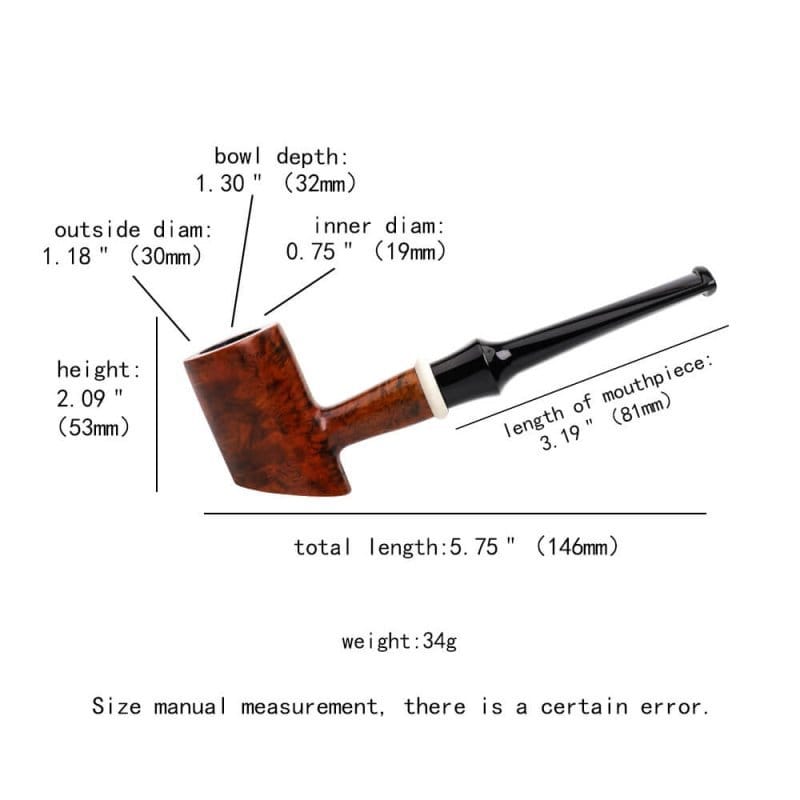 FAQS