How to find the best tobacco pipes 2021? Tobacco pipes have been around since the early 1600s and are still popular today. The reason people still smoke out of tobacco pipes is simple. Tobacco pipes provide a better smoking experience. A tobacco pipe can provide more satisfaction for your senses than a cigar or cigarette can, especially if you're a new smoker.
with so many tobacco pipes available on the market, it is hard to know which one will fit your needs best. the quality of some pipe is simply better than the others. A pipe is one of the most economical and civilized forms of smoking. From its humble beginnings to the pipes used today, the history behind tobacco pipes is as old as tobacco itself. The feel, smell, and taste of a well-crafted pipe will enhance any smoking experience.
If you are looking to smoke premium tobacco, and are willing to invest more in a good pipe, then this article will help you find best tobacco pipes 2021
There are many brands of tobacco pipes to choose from, but here are a few of our favorites.
Savinelli Tobacco Pipes: The Savinelli tobacco pipe company was founded in 1876 by Achille Savinelli, and they are still one of the best Italian pipe makers today. Their briar wood pipes are known for their durability, high quality and great smoking experience.
L'Anatra: L'Anatra is another great Italian brand that specializes in handcrafted briar wood pipes. These are some of the most beautiful pipes you'll see! They have a wide variety of shapes and styles to choose from with prices ranging from $30-$300+.
Dunhill Tobacco Pipes: Dunhill is another long-time manufacturer of high quality tobacco pipes. They produce both briar wood pipes (like Savinelli) as well as acrylic/plastic ones which are less expensive but still provide an excellent smoking experience.
MUXIANG Tobacco Pipes:Muxiang Smoking Pipe is a manufacturer specializing in the manufacture of briar wood pipes, with more than ten years of experience in manufacturing smoking pipes, specializing in the production of sandblasted pipes, carved pipes, flamed pipes and hand-made pipes.
main markets include Europe (including Germany), America (including America), Southeast Asia (including Japan) and so on.
Their Briar pipes are a popular choice for smokers because of their high quality and value for money.
Best Tobacco Pipes 2021
Muxiang Briar Pipe
Muxiang Briar Wood Pipe is made of high quality briar wood, which makes it more durable and beautiful. It comes with a metal filter on the mouthpiece, which allows you to enjoy a smooth smoking experience.
Features:
Made of high quality briar wood material, durable and beautiful
Metal filter on the mouthpiece for smoother smoking experience
The briar wood used in these pipes is sourced from the Italy and all pipes are hand finished with beeswax and sanded to a smooth finish. The Muxiang briar wood pipe is available in three different shapes: Billiard, Bent Billiard and Dublin. The Billiard shape has a straight stem while the Bent Billiard has an angled stem and the Dublin has both an angled stem and tapered bowl.
Briarwood Sherlock Holmes Gourd Pipe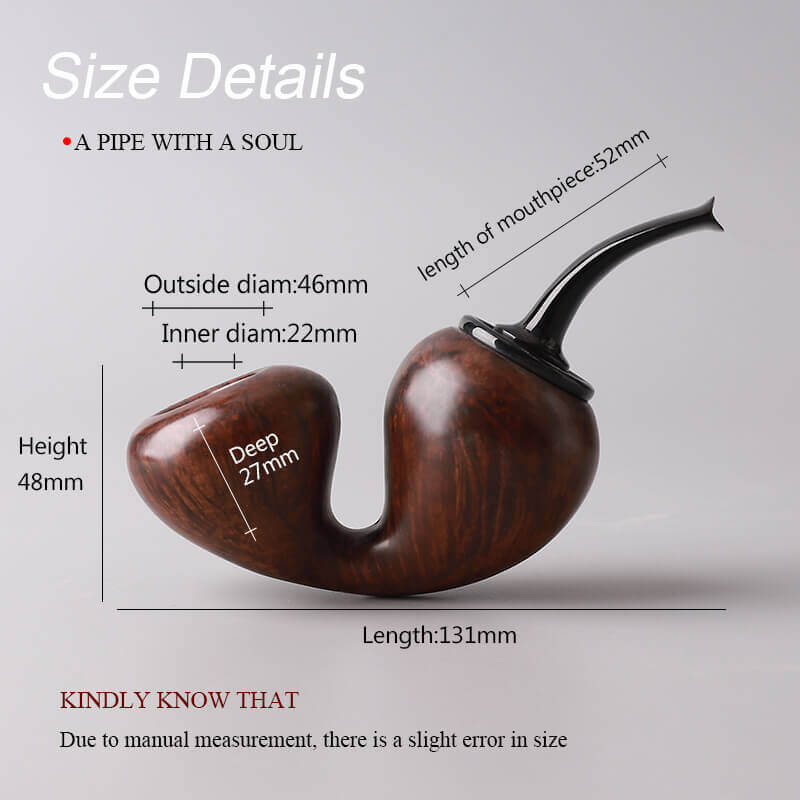 This Sherlock Holmes Gourd Pipe is an elegant, yet simple, pipe that will make you feel like a true detective. With its classic design and long stem, this Sherlock Holmes pipe is perfect for any gentleman who wants to take his time with his tobacco. This Sherlock pipe features a deep bowl for easy packing and smoking. and has a bent stem for easy smoking and to prevent you from burning your fingers.
This briarwood Sherlock Holmes Gourd Pipe comes with a gift box for easy storage and travel. This high quality briar wood pipe is sure to last a lifetime with proper care and maintenance.
Peterson of Dublin Sherlock Holmes Tobacco Pipe
The Peterson of Dublin Sherlock Holmes Tobacco Pipe is a unique product that comes with a deep history. This pipe was made to commemorate Sir Arthur Conan Doyle's famous character Sherlock Holmes and his pipe smoking addiction. The Peterson pipe has been around for over 145 years, making it a very popular brand among tobacco smokers.
The Peterson of Dublin Sherlock Holmes Tobacco Pipe is a great gift idea for anyone who has an appreciation for all things Sherlock Holmes. The pipe is handcrafted from briar wood, which is a very hardy and durable material. The bowl of this pipe offers plenty of space for packing your favorite tobacco blend into it. You can purchase this pipe in either black or red finishes; each one features the Sherlock Holmes logo on its stem and shank, as well as an intricate carving of the famous detective himself!
Poul Winslow 'Senior' Tobacco Pipe
One of the most popular pieces of Danish modern design is the Poul Winslow pipe, a Danish designer and architect who collaborated with Georg Jensen to design his signature "Danish Modern" furniture.
The pipe has a stunning marble bowl, which is very rare for an old pipe like this one. It is beautifully crafted and in excellent condition. The stem matches the marble perfectly. This is one of the most beautiful pipes we have ever seen!
The pipe is in excellent condition for its age; there are no cracks or damage to be found anywhere on the pipe (it does have some slight tooth marks on the rim of the bowl). The stem may have been slightly reamed at some point in its life but it's still perfectly serviceable and comfortable to hold — it has a slight bend towards the shank side that makes it easy to clench between your teeth.
Chacom Corsica Tobacco Pipe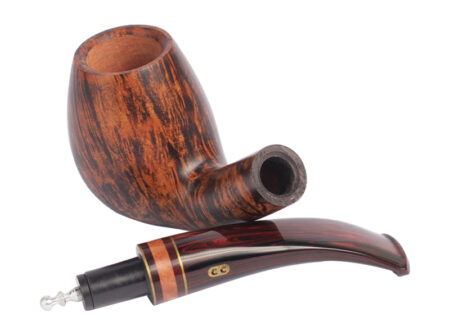 The Chacom Corsica Tobacco Pipe is a medium sized pipe with a smooth, curved stem. The bowl is made from meerschaum, a mineral that has been mined in Turkey for centuries. Meerschaum pipes are becoming increasingly popular and the Corsica is one of the best selling models. It can be used to smoke any type of tobacco, but works especially well with aromatics and cherry flavored tobaccos.
Chacom has been making pipes since 1825 in Saint Claude, France and they have been using meerschaum for their pipes since 1856. Today Chacom makes over 20 different types of pipes, including the Corsica which was introduced in 1999 as part of their 'Collection 2000' line of premium quality products.
The Chacom Corsica Tobacco Pipe features an attractive brown stain over white enamel that covers both sides of the bowl as well as part of the stem. The stain provides contrast against the white background while also providing a protective coating against heat damage when smoking your favorite pipe tobacco or fine cigarillos.
The Corsica's curved stem provides an ergonomic feel that feels comfortable in your hand while providing enough resistance so that it won't
Missouri Meerschaum Great Dane Tobacco Smoking Pipe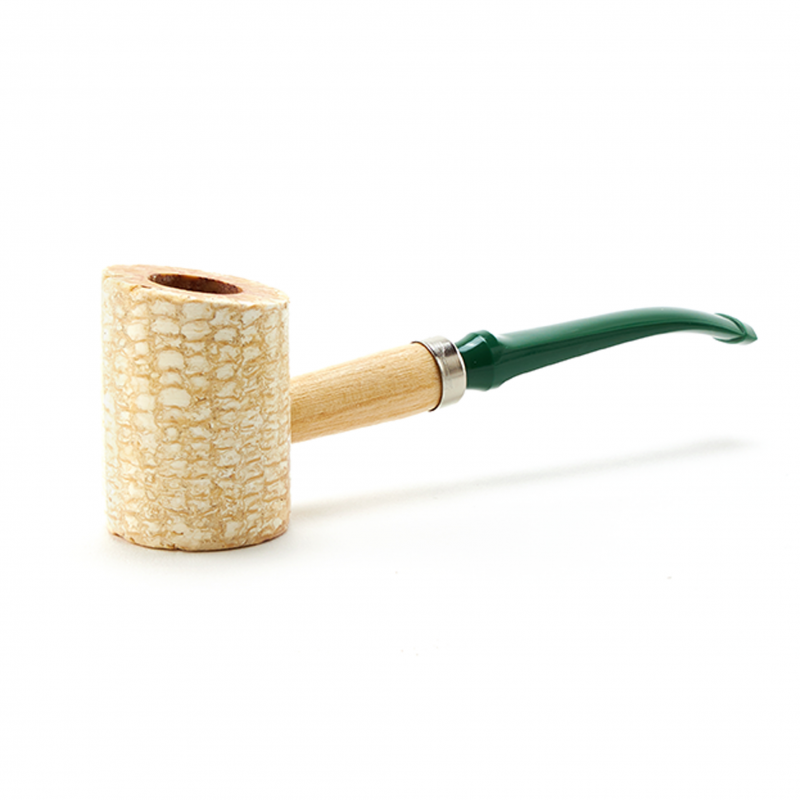 The Missouri Meerschaum Great Dane has a very popular and classic look that many people love. It's a bent pipe, which means it has a downward slant to the stem. The stem of this pipe is made from black vulcanite, which is a type of soft rubber. It's comfortable to hold and easy on your teeth, which makes it perfect for beginners or anyone who just wants to smoke without worrying about their teeth getting damaged.
The bowl of the Missouri Meerschaum Great Dane Tobacco Smoking Pipe is made out of corn cob and fits nicely in the palm of your hand. This makes it great for outdoor use when you want to enjoy a relaxing smoke on those nice days when you get some free time outside. There are no sharp edges around the bowl either, so there won't be any risk of breaking your skin while smoking with this pipe!
The bowl also comes with an air hole at the bottom, so there's no need to worry about having trouble drawing smoke into your mouth while using this tobacco pipe! All you have to do is put some tobacco inside and light up!
The best selling pipe is the Muxiang Briar Pipe. The reason it's so popular is because it's a good quality pipe that's priced right.
The Muxiang Briar Pipe is made of briar wood and has a removable filter. It has a simple design that's easy to hold and use.
Briar wood comes from the root burl of the heath tree and it's hardy enough to be carved without being damaged. It also provides an excellent smoking experience with its natural oils and acids that help to neutralize tars and nicotine during the smoking process.
The construction of this pipe is solid, which means you won't have any issues with your smoke getting through it or having it fall apart after repeated use. This makes it ideal for anyone who wants to enjoy their tobacco without worrying about having their pipe break down on them in the middle of a session or while they're traveling around town with friends who are also smokers!
Choosing a tobacco pipe for the first time in your life can be fraught with difficulty, as there are many different types and you have no idea which one is the best choice. There are many different properties that you should look for when you are looking for the best tobacco pipe in order to make your experience more enjoyable and to ensure that you are making the right choice for yourself. You could ask around your friends to see what they have experienced with tobacco pipes, or if you want to look at online reviews , there are plenty of them out there.
If you see a 2022 better tobacco pipe, or if you feel there is a better place to buy tobacco pipes than on our list, please let us know in advance so that we can do our best to investigate and modify this guide. We hope that our reviews and information will help you in making the best decisions.